Deborah and Michael Worpell never expected to be training a puppy in their spare time – especially now that their children are in college. But at the urging of a friend who is legally blind, the Temple members got involved in 2012 with Leader Dogs for the Blind.
"We'd been talking about how we always had dogs, but after we had to put ours down, we said…we can't take the heartache even though we missed having a pet," said Deborah. "Our friend Jim suggested that we look at being a puppy raiser for Leader Dogs. We have a puppy for 12 to 15 months, teach good manners and social graces, and then we return them for further training, and we can get another puppy."
Founded in 1939 by three Detroit-area Lions Club members, Leader Dogs for the Blind helps people who are blind, visually impaired, or Deaf-Blind. According to the organization's website, the group helps "with skills for a lifetime of independent travel, opening doors that may seem to have closed with the loss of sight."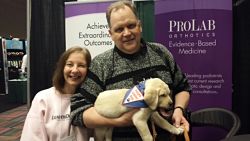 The Worpells started in late March 2014 to work with Shannon, an 8-week-old yellow Labrador. She is their third puppy through Leader Dogs. Their first puppy ended up having a medical discharge and the second puppy was advanced in late March for formal training. Shannon visited with the Temple's Religious School students on the first day of class 2014.
Deborah said the dogs are trained to assist the visually impaired all over the world, including in Israel. There is no charge to the client for the dog, transportation or training.
"The most rewarding part for us is knowing you'll give someone the gift of independence and security," she said. "Raising the puppies is our ongoing mitzvah!"
Deborah said Shannon goes to work with her and Michael at his podiatry office. She said puppy raisers give basic training and obedience lessons, including ho wto sit, stay, down, leave it, and how to walk nicely on a leash through all situations. The trainers are responsible for taking puppies wherever they go so the puppies get used to sights, sounds, and crowds. After the full 12-15 months of training, she said, the puppy is returned to Leader Dogs for their formal training.
Once a puppy returns to Leader Dogs and has been successfully training, Deborah said, the puppy is matched with a client and spends another month at Leader Dogs being trained to work together. It is up to the client whether to meet the puppy raiser and stay in touch. If for some reason, the puppy does not make it through the program, he is placed in another type of service situation or the puppy raiser is allowed to adopt the puppy.
Deobrah and Michael go to a local puppy training session once a month in the Fort Wayne area where they meet other puppy raisers and a counselor. They go to Rochester Hills every other month for a weekend of training.