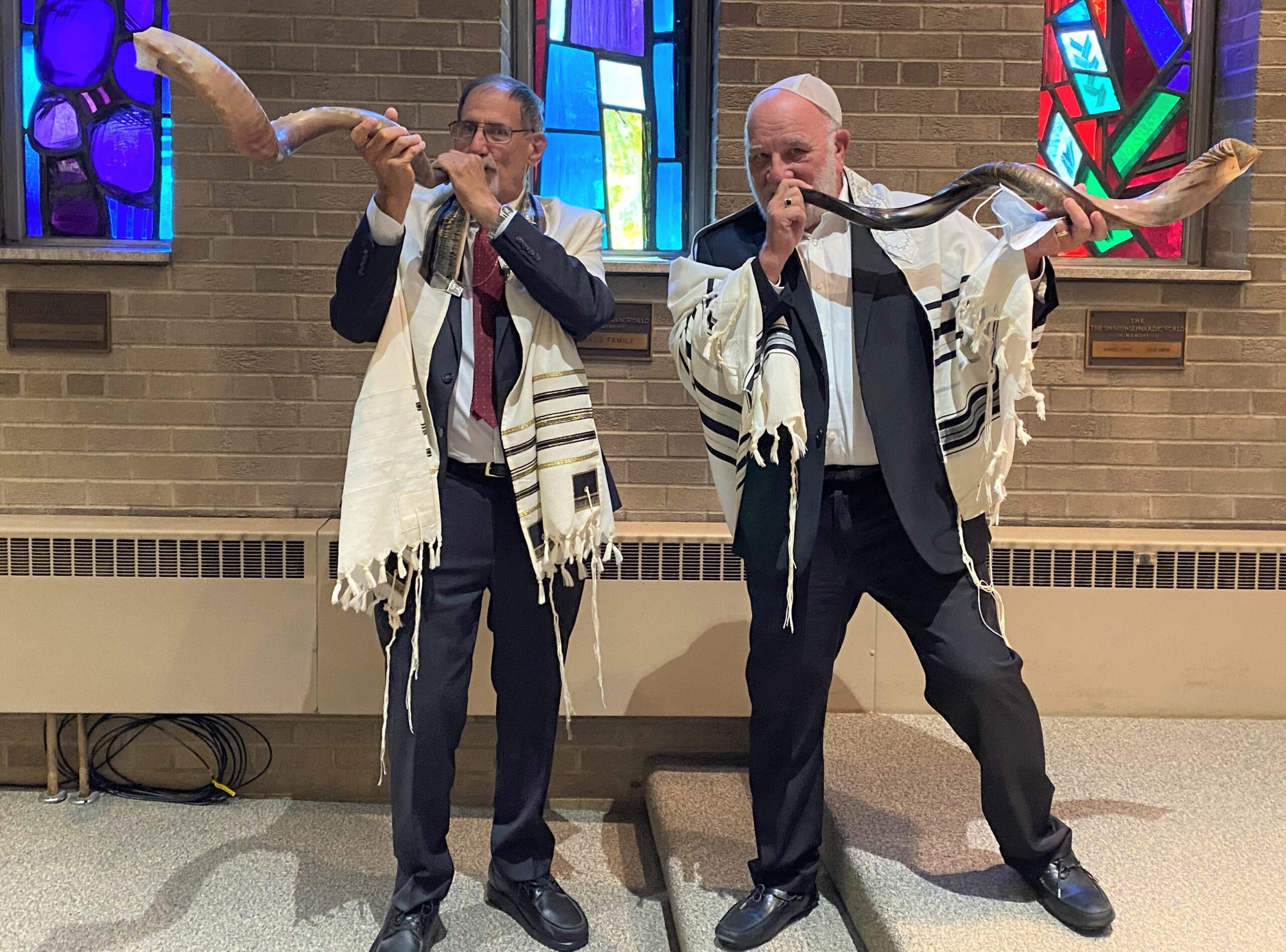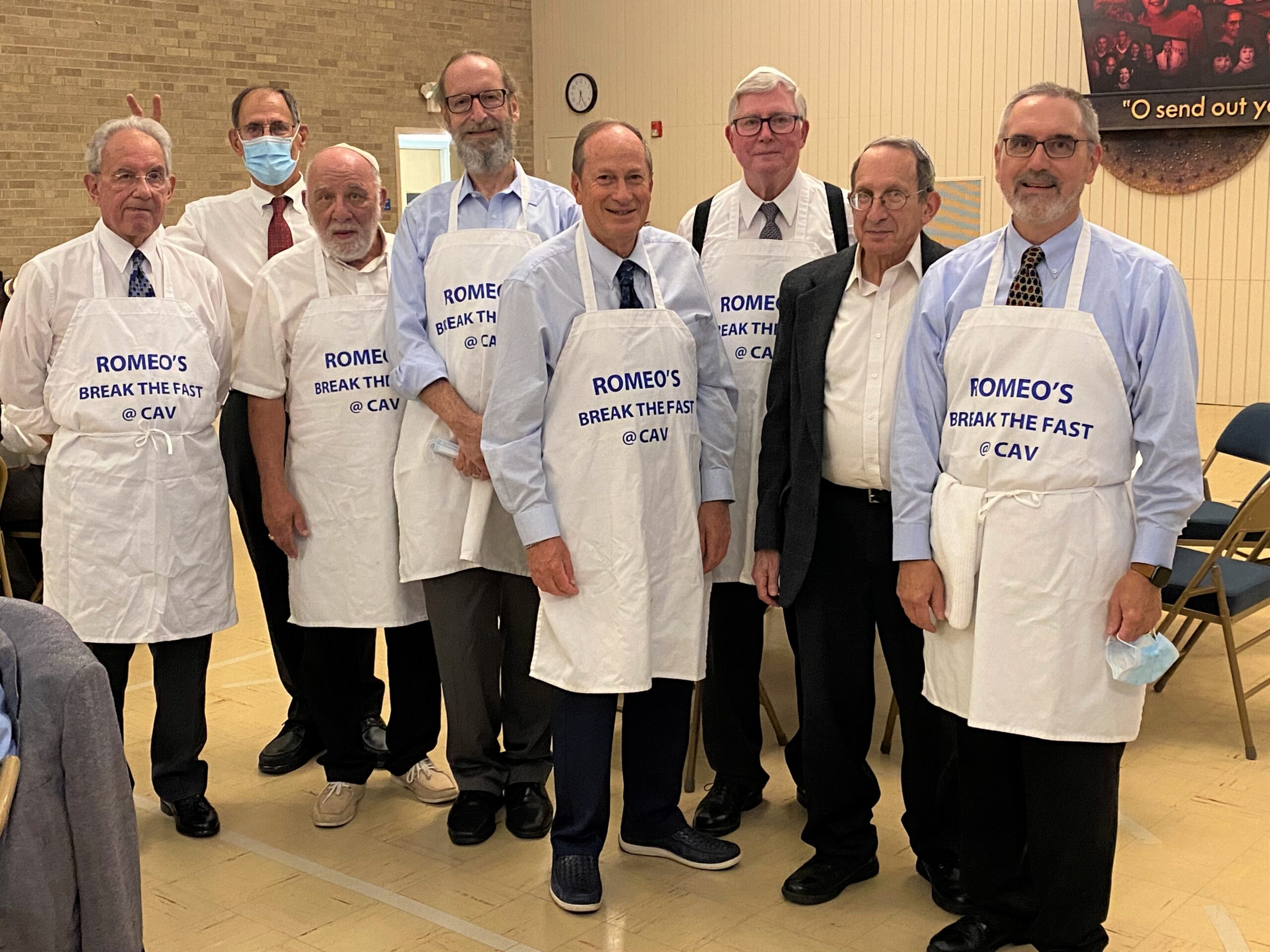 Share the sacred season with us as we begin the New Year 5783 (2022)!

We'll welcome the New Year 5783 as a community in a new way, gathering on Erev Rosh Hashanah for the first time with both Reform and Conservative minyanim worshiping together as one congregation.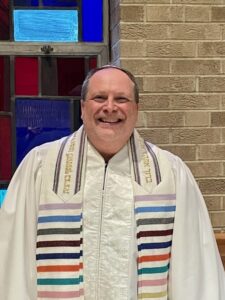 Rabbi Meir Bargeron will lead the service on Sunday, September 25 at 7:30 p.m., weaving together aspects of both liturgical traditions to inspire new insights during this time of reflection, forgiveness, and renewal.
We are fortunate to have two special guests – Cantor Yvon F. Shore and Cantor Yael Fischman — sharing their voices, with musical accompaniment by Maestro Robert Nance. Ronnie Greenberg also will deliver the President's address during the service.
Our annual New Year's Reception will follow, providing an opportunity for our Temple family to share good wishes and enjoy a delicious nosh.
During the remaining Rosh Hashanah and Yom Kippur worship services, Cantor Shore will join Rabbi Meir for Reform services and Cantor Fischman will lead our Conservative minyan, with Ron Friedman. Hazemir will sing during some services and Cellist David Rezits will perfrom on Kol Nidre.  
Plan to join us in person or via livestream throughout the Days of Awe. Under our current COVID safety protocols, masks are optional.
In addition to the New Year's Reception, other favorite traditions will be returning: Our all-congregation Tashlich observance and Break-the-Fast meal hosted by the ROMEOs.
We warmly welcome visitors to our High Holy Days services. Please contact the Temple office for more information about in-person attendance or Zoom access at (260) 744-4245 or office@templecav.org. Our services also are available on YouTube. Visit our calendar for the latest schedule. 
Please join us for worship and other holiday activities: 
Selichot Service – Saturday, September 17

7:30 p.m. Begin the holiday season together with Havdalah and meditative prayer and readings as we change the Torah covers to white. 

Erev Rosh Hashanah Service and Reception – Sunday, September 25

7:30 p.m. Service (Both Reform & Conservative together)
Rosh Hashanah Reception follows 

Rosh Hashanah Services– Monday, September 26

Conservative services

8:30 a.m. – Shacharit
10 a.m. Torah service with D'var Torah
11 a.m. Musaf

10 a.m. Reform Service
Noon – All-Congregation Tashlich

Rosh Hashanah Service – 2nd Day – Tuesday, September 27

Conservative services

8:30 a.m. – Shacharit
10 a.m. Torah service with D'var Torah
11 a.m. Musaf

Shabbat Shuvah Services –
Cemetery Services – Sunday, October 2

1 p.m. at Lindenwood Cemetery
2:30 p.m. at Fort Wayne Jewish Cemetery

Erev Yom Kippur Services – Tuesday, October 4

Conservative Service – Mincha at 6:30 p.m. & Kol Nidre at 7 p.m.
Reform Service – 8 p.m.

Yom Kippur Services – Wednesday, October 5

Conservative Services –

8:30 a.m. Shacharit
10 a.m. Torah, Haftorah, D'var Torah, Yizkor
11:30 a.m. Musaf
6 p.m. Mincha
7 p.m. Neilah
8 p.m. Havdalah
Break-the-Fast follows (Kindly RSVP)

Reform Services

10 a.m. Morning Service
2:30 p.m. – Learning Sessions
4 p.m. – Yizkor Memorial Service
5 p.m. – Neilah (Concluding) Service
Break-the-Fast follows (Kindly RSVP)

Sukkah Decorating – Sunday, October 9 from 10:30 a.m. to noon
Sukkot & Shabbat Services, followed by a Nosh in the Sukkah
Erev Simchat Torah Service with Yizkor – Monday, October 17 –

6:30 p.m. Oneg Torah
7 p.m. Service
Support the Temple with a High Holy Days Donation
As we prepare to start the New Year, it's tradition to make a donation to the Temple to help support our year-round efforts to ensure a Jewish presence in Northeast Indiana.
Please consider being a "sponsor" of Achduth Vesholom's High Holy Days 5783. Your generous gift will be used for needs during the holidays and beyond, from replenishing the floral fund to assisting with security, music, technology, and congregational events.
Sponsors who donate $54 or more by Friday, September 16 will be recognized in our holiday announcements.
Jewish tradition encourages making tzedakah (charitable gifts) in multiples of 18, which is spelled chai and also means "life." Donations offered in any amount will be greatly appreciated.
We're proud to be one congregation with two worship traditions. Whether your customary gift is through sponsoring aliyot during Conservative services or your annual donation contributes to other congregational needs, we value and appreciate your assistance.
We have several ways to give:
Donate online and choose "High Holy Days" on the dropdown menu. Please indicate if your gift is "in honor of" or "in memory of" a special person, or celebrates an occasion.
For aliyot during our Conservative service, please contact Josh Tourkow at jtourkow@tcrjlaw.com. (To donate online, choose "High Holy Days – Aliyot" on the dropdown menu and indicate if your gift is "in honor of" or "in memory of" a special person, or celebrates an occasion.)

Send a check payable to "CAV- The Temple" to sponsor the High Holy Days (5200 Old Mill Road, Fort Wayne, IN 46807)
High Holy Days Food Drive
Congregation Achduth Vesholom is raising funds and food to benefit the clients of our partner organization, Wellspring Interfaith Social Services, which serves people in need living in the heart of Fort Wayne.
Pick up a grocery bag from our lobby on Rosh Hashanah, fill it with peanut butter and/or paper goods (toilet paper, paper towels, etc.), and return it to the Temple on Yom Kippur.
Order a case or cases of your favorite peanut butter (16 oz. jars) to be delivered directly to Wellspring, 1316 Broadway St., Fort Wayne, IN 46802. Request a card be included with your name and CAV's name.
Write a check for any amount, from $5 to $500, payable to "Wellspring Interfaith Social Services." Deposit it in the Tzedakah Box in our lobby – or mail it to the Temple (5200 Old Mill Rd., Fort Wayne, IN 46807) and we will forward it with other checks as a group to Wellspring.
Thank you for your generosity and support of this worthwhile mitzvah! This is our largest effort in a calendar year to assist those with less than we have. Please open your hearts and pockets again this year as you have for so many years.
Remembering Loved Ones on Yom Kippur
If you would like to have a loved one's name included during Memorial/Yizkor services on Yom Kippur, please provide information to the Temple office by Wednesday, September 28. Call us at (260) 744-4245 or email at office@templecav.org.
Names will be read on Wednesday, October 5 at 10 a.m. during our Conservative service or 4 p.m. during our Reform service.
Machzorim Available To Borrow For Online Worship 
Members who plan to attend Rosh Hashanah and Yom Kippur services online may borrow machzorim (holiday prayer books). Find out more
Join Us For The Holidays! 
Our High Holy Days services are open to all. We do not require tickets to attend and guests are welcome. Please let us know if you've met someone new to our Jewish community so that we may reach out to them.
Members and guests often ask about making a donation to the Temple in appreciation for the lovely services and to assist our year-round efforts. Donations envelopes are available at the Temple. Online donations also may be made.
If you're traveling to another Union for Reform Judaism congregation that requires tickets for the holidays, please contact the Temple office as soon as possible. We can provide a letter verifying that you're a member in good standing of Achduth Vesholom in order to obtain tickets at another Reform congregation.