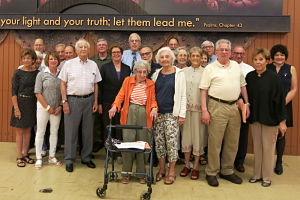 L'dor Vador — from generation to generation — is a Jewish tradition that offers promise from current generations to future generations. One of the best ways we can sustain a Reform Jewish presence in northeast Indiana is through a lasting gift to Congregation Achduth Vesholom.
To encourage supporters of the congregation to remember the Temple in their estates, the L'dor Vador Legacy Society was created in March 2012 to recognize individuals whose generosity and dedication will help support future generations.
Why is this effort important? By knowing about the possibility of future gifts, the Temple is better able to navigate economic fluctuations and plan accordingly. To be included in the society members, please inform the Temple in writing that you have made provisions to remember the congregation in your estate. Society members are recognized in June at the Temple's Annual Meeting. Anyone may join the legacy society at any time by providing a letter of intent stating that you've made arrangements for a planned gift to the Temple.
Types of planned gifts that qualify you for membership in the L'dor Vador Legacy Society include bequests, revocable trusts, and naming Congregation Achduth Vesholom as a beneficiary of a life insurance or retirement policy. Other gifts that qualify you for membership may provide lifetime income and current tax deductions while also leaving a remainder amount after your lifetime to benefit the Temple.
For further information about the L'dor Vador Legacy Society or making a planned gift now or in the future, contact the Temple office at (260) 744-4245 or office@templecav.org.