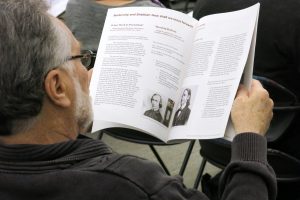 Expand your Jewish knowledge and friendships by being part of our growing community of lifelong learners. Please check our calendar for more information on Adult Learning opportunities for 2021-2022. We also invite you to learn more about our collection in the Rabbi Richard B. Safran Library.
Classes are currently offered online. Links are sent to members of our extended Temple family by email. Please contact the Temple office for access information at office@templecav.org or (260) 744-4245.
---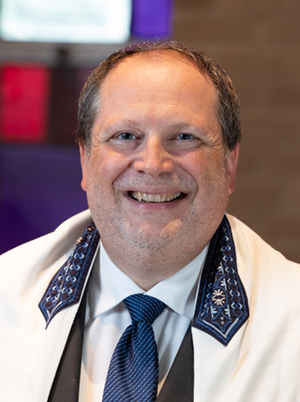 Weekly Torah Study
Join Rabbi Meir Bargeron for weekly Torah Study on Tuesdays from 7 to 8:30 p.m. on Zoom as we delve into important lessons from the Torah.
This learning series grew out of robust discussions during our Shabbat morning services that demonstrated an enthusiasm and interest from congregants in nurturing and encouraging an in-depth study of Torah. Everyone who is post-B'nai Mitzvah and older is welcome.
---
Hebrew Liturgy Study Group
Study the Hebrew texts – both Orthodox and Reform – of the daily and Shabbat liturgies on Mondays at 7 p.m. led by John Planer on Zoom.
Join us to examine the meanings and grammar of the texts we recite and note significant variants. The group is open to any and all.

---
Five Books Of Moses Study
Read and study the Torah, verse by verse, with classic commentaries by Rashi, Rashbam, Seforno and many others during a weekly study group led by Rabbi Mitchell Kornspan on Sundays at 7 p.m. on Zoom. Temple members, as well as members of the larger Fort Wayne Jewish community, are invited to participate. 
This approach to the study of Torah delves into the depths of Rabbinic teaching on the Torah Portion. Note that this group is not studying the texts on the same schedule as the weekly Torah portion. Participants should attend with a Tanakh, and learners with any level of Hebrew proficiency are welcome.

---
Temple Book Club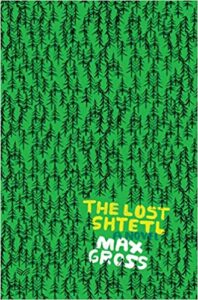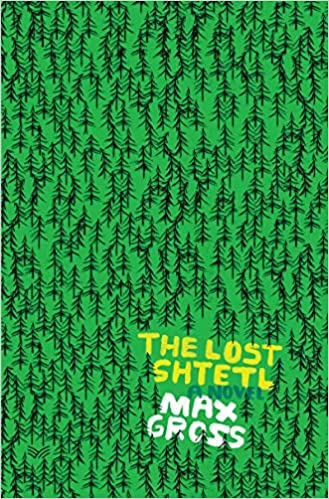 Our enthusiastic readers will meet for a book discussion and to talk to the author via videoconferencing. Our titles for the 2021-2022 year are:
---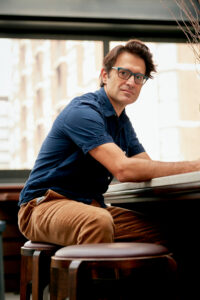 Author's New Book Explores Tree of Life Synagogue Shooting
Mark Oppenheimer is the author of Squirrel Hill: The Tree of Life Shooting and the Soul of a Neighborhood, which will be released in early October. He'll speak on Monday, October 25 at 7:30 p.m. at the Temple. This is a joint program with the Jewish Federation of Fort Wayne and the Purdue Fort Wayne Institute of Holocaust and Genocide Studies. Find out more 
---
Make Your Own Golem Workshop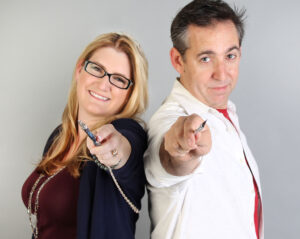 Protection. Safety. Strength. Power. Right now we could all use a little more sense of well-being. The Jewish myth of the golem summoned ancient Jewish magic to create protection in difficult times.
Explore the golem legend and use your hands to create your own symbols of protection and safety. Join Isaac and Rabbi Shawna Brynjegard-Bialik on Sunday, October 31 at 2 p.m. to "make your own golem" out of paper and cut-up comic books during a 90-minute workshop on Zoom that includes visual learning about the legend of the golem and a hands-on activity with materials provided. No art experience, clay or magic spells required; just your enthusiasm.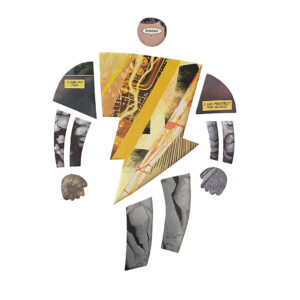 Find out more about the program
Isaac and Rabbi Shawna also will share a D'var Torah via Zoom during our Shabbat service on Friday, October 29 at 6 p.m.
---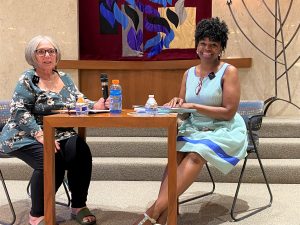 Hot Topics Shabbat
The Temple's Social Action Committee hosts occasional programs on Friday evenings highlighting important social justice topics. On June 11, we learned about Police Reform and Social Justice with guest speaker Michelle Chambers, an at-large member of the Fort Wayne City Council who co-chaired the city's Commission on Police Reform and Social Justice. Please check our calendar for upcoming programs.  
---
Genealogy and the Holocaust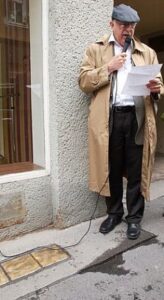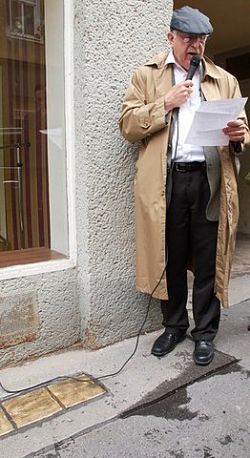 Over the past few years, Temple member
 Irv Adler
 has presented several programs on Genealogy and the Holocaust in Fort Wayne and beyond to share his worldwide search through Holocaust records to find out more information about his grandmother and family. 
Watch his presentation
 on "Families Lost & Found: Tracing My Viennese Roots After the Holocaust" to IPFW's Campus Ministry on November 16, 2017.
As part of this personal historical journey, Irv traveled to Vienna to place a Stone of Remembrance in front of the home where his grandmother Clara Bader Nichtern lived before she was murdered in 1942 by the Nazis at the Maly Trostinets death camp outside of Minsk. He returned in 2018 to dedicate additional stones of remembrance. His research continues today. 
Learn more about family history resources in the Madge Rothschild Resource Center and through the Northeast Indiana Jewish Genealogy Society.
Strings of Inspiration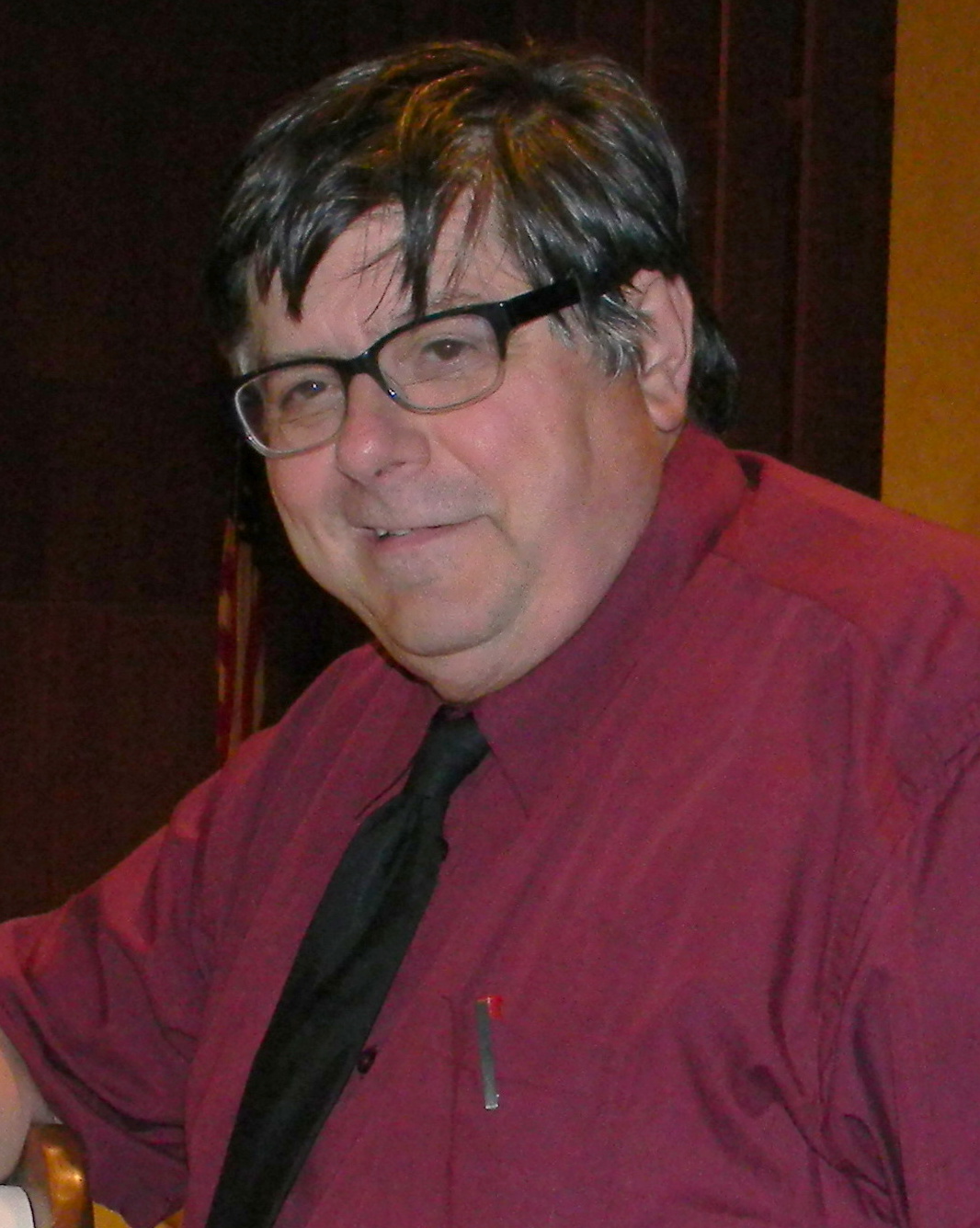 Temple member Bruce Colegrove will be back in 2021-2022 with more stories of some of the most remarkable events in the life of the women's orchestra at Auschwitz-Birkenau.
Bruce describes the group as the most eclectic, the most unique, the most controversial, and, without any question, the most zealously documented gathering of female musical talent the world has ever known. By many regards, it was also the most inspiring.
An ardent researcher in Holocaust studies, Bruce is the developer of the website Women's Orchestra of Auschwitz-Birkenau. He is a long-standing Hebrew teacher at Achduth Vesholom and a 20-year faculty member at Canterbury High School.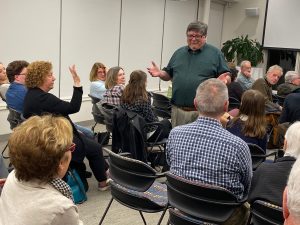 Listen to Study Sessions offered during Rabbi Meir's Consecration Weekend in June 2021: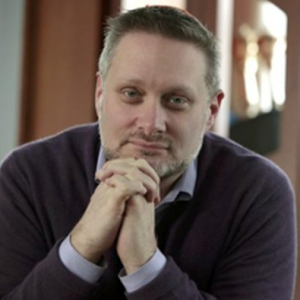 Presented by Rabbi Michael Adam Latz, Lead Rabbi of Shir Tikvah Congregation in Minneapolis, MN:
The Stolen Beam: Reparations and the Rabbinic Imagination
Explore a powerful Talmudic text and the implications it has for our contemporary conversation and work towards racial justice and equity. Find the program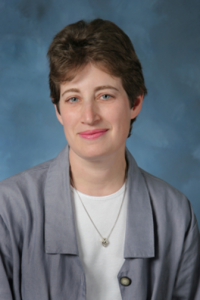 Presented by Rabbi Dr. Dvora Weisberg, Rabbinical School Director at Hebrew Union College – Jewish Institute of Religion in Los Angeles, CA:
What's in a Name? Reform Jewish Identity in the 21st Century
Often Jews assume that "being Reform" means not doing or believing something. They may think that certain practices – keeping kosher, avoiding certain activities on Shabbat – indicate that a person is not a Reform Jew. We will look at the way that Reform Judaism has shifted in its self-definition by studying the way that Reform and Conservative rabbis thought about one change to the prayer book: the inclusion of the Matriarchs in the Amidah prayer. Find the program