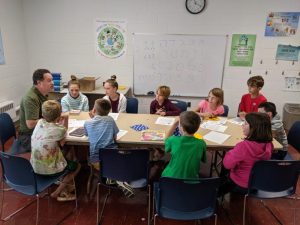 Achduth Vesholom's KESHER ("Connection") programming features an engaging mix of virtual and in-person learning experiences for our youngest Temple members to:
Experience Jewish Values to build lasting Jewish Identity.
Learn about Jewish Time by "doing" Jewish Holidays.
Acquire the building blocks of Hebrew learning to access Jewish Prayers and Jewish Texts.
Access resources for Jewish family life during occasional parent and family programs.

Joy Vey! A Kid-ish Shabbat for Youth Ages 0-5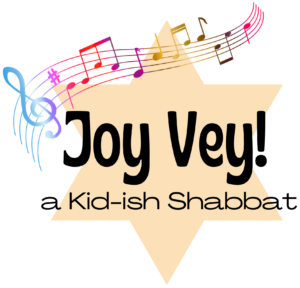 Gather 'round your little ones and join us in the tradition of blessing our children as we make a joyful place for Shabbat in our lives and hearts… together. Ages 0-5ish and older siblings join together on the second Friday night of each month from 5:30 to 6 p.m. to light candles, pray, sing songs, move and groove, and even practice mindfulness.  
Mitzvot for Youth Ages 6-13* (Religious School enrollment required)
Our school-aged youth participate in weekly online Jewish values and Hebrew courses through the Union of Reform Judaism's Shalom Learning program, which strives to instill a love of lifelong Jewish learning and to create an environment in which students, teachers, parents, and communities experience Jewish values as a meaningful way to navigate the world.
* Students ages 9 and above are required to enroll in and complete 3 full years of Values and Hebrew instruction prior to their B'nei Mitzvah.  Participation in Values and Hebrew programming by students ages 6-8 is optional.
Middot for Youth Ages 13-15 (Religious School enrollment required)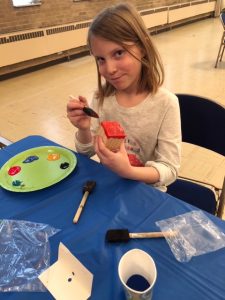 Our youth who have become B'nei Mitzvah will participate in weekly in-person and virtual courses and youth group activities exploring key personal characteristics, traits, and virtues for living a Jewish life (middot). These youth-centered programs will support students by providing skills and tools that can help them virtuously navigate the unique challenges of their teen years.

Mussar for Youth Ages 15-16 (Religious School enrollment required)
Our Confirmation-age youth will participate in regular sessions with Rabbi Meir exploring virtue-based ethics and principles of leading a meaningful and ethical life as students prepare to affirm their commitment to the Jewish people as Confirmands.
Activities for the Whole Family
Our calendar for the coming year also includes several in-person Family Shabbaton and KESHER Sunday programs, youth-oriented simcha and yontiff celebrations, a family movie night, and community service opportunities, including:
High Holiday Youth Worship
Pizza in the Hut for Sukkot
Simchat Torah Celebration
Hanukkah Party
Tu BiShvat Service Project
At-Home Shabbat
Purim Carnival
Passover Second Seder
Lag B'Omer
Family Movie Night
Maccabiah Games
Our long tradition of meaningful Jewish education in Fort Wayne has been fostered by the hard work and dedication of teachers, rabbis and educators. We're also fortunate to have the Rabbi Richard B. Safran Library as a resource here at the Temple.
The Temple also encourages our young people's involvement with Jewish summer camps like Camp Joe and GUCI, SKIP programs to promote travel to Israel, and regional youth-focused NFTY enrichment programs.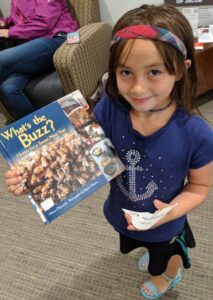 The Temple also encourages our young people's involvement with the Temple's Junior Youth Group and FOrTY, as well as Jewish summer camps and NFTY programs.
Questions? Contact us at (260) 744-4245 or office@templecav.org.
"One-Sheet" Resources for KESHER:
Holidays
Jewish Values
Other
Resources from the Union for Reform Judaism:
Our Goals
The Religious School at Congregation Achduth Vesholom seeks to provide an enriching learning experience that engenders a deeper, more purposeful appreciation of our students' spiritual heritage.
Our aims and objects
To implant in our students and their families a feeling of belonging to the Jewish community.

To teach Jewish values, traditions, history and culture.

To create meaningful Jewish experiences for our children so that Judaism becomes a positive intellectual and emotional experience that brings pleasure, beauty and joy of life.

To strengthen and reinforce Jewish associations within the lives of our young people so that the TEMPLE and HOME become the centers for Jewish life and values.
Tzedakah Program
At Religious School, our children's weekly education includes the recognition of Jewish responsibility and helping others in need in the community. Weekly collections of Tzedakah taken in each classroom on Sunday morning give each child the opportunity to put this knowledge into action. Please encourage your child to share his or her good fortune by giving from his or her allowance. Funds will be allocated during the school year as students learn about places and people in need.
Weather Cancellations
We look forward to meeting again in person when our building re-opens.
Religious School: In the event of inclement weather, a calling tree will go out to all families, teachers and aides no later than 8:30 a.m. on Sunday morning.
Hebrew School: If Fort Wayne Community Schools are closed due to weather, then we will not have Hebrew School. If the weather gets bad later in the day on Tuesday or Wednesday, a calling tree will go out to all Hebrew School families and teachers no later than 4 p.m.
As always, please use your discretion regarding the weather. You and your family's health and safety are always the top priority.