Digital Yahrzeit Display
The Temple added a new digital yahrzeit display in fall 2021 to provide a special way to remember our loved ones and continue the Jewish tradition of observing the anniversary of their passing.
The display uses an interactive platform that features a digital "plaque" that includes the individual's name and date of death, as well as a touchscreen to find a personalized page with biographic information and photos.  To view click below.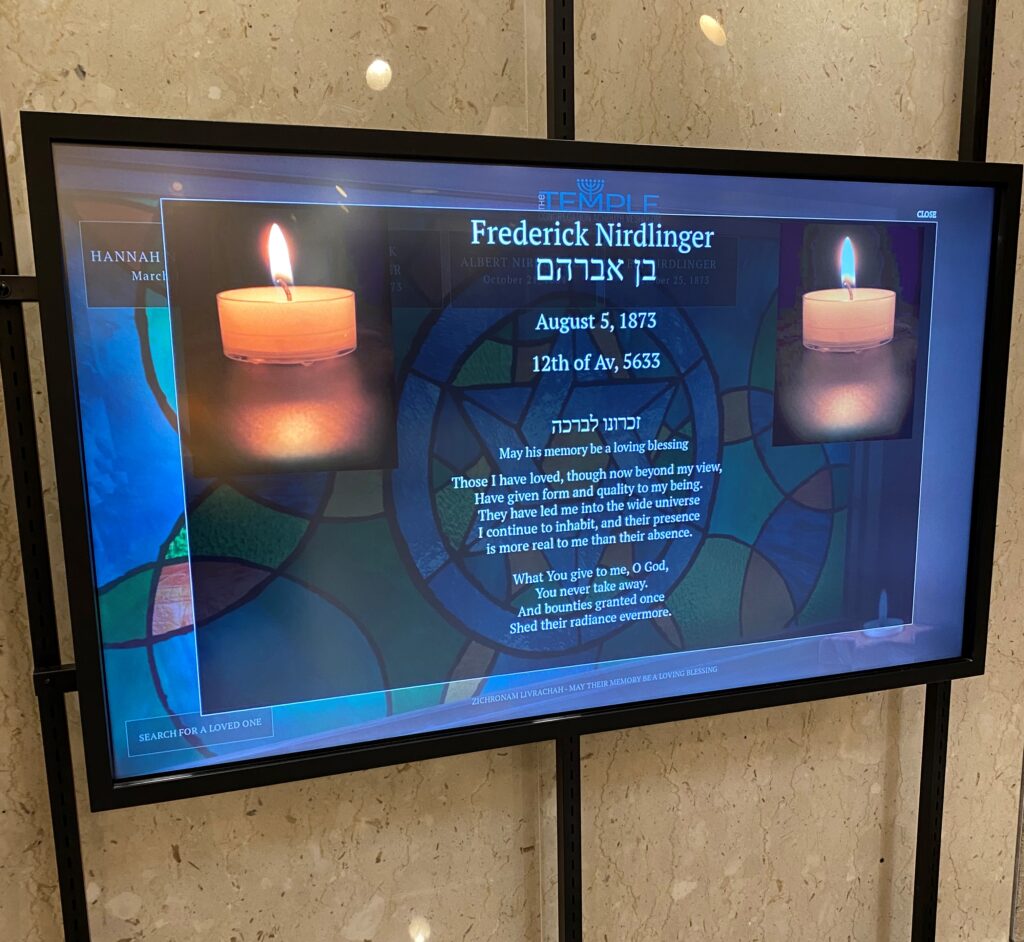 Yahrzeit names for a given week are highlighted, along with a search option to locate information at other times. This platform not only allows our Temple family to memorialize loved ones, but also enables us to learn more about these individuals.
Digital yahrzeit plaques are available for $500 each, with proceeds going to the Temple's Endowment.
Please contact the Temple office at (260) 744-4245 if you'd like to purchase a virtual Yahrzeit Plaque in memory of a loved one. Fill out the Memorial Plaque form online  or print a copy. 
Have you previously purchased a bronze yahrzeit plaque for a loved one at Achduth Vesholom or B'nai Jacob? Or have you recently purchased a digital plaque?
If so, we invite you to take advantage of special features on our new yahrzeit display by providing biographical information and photos of your family member.
Fill out the Memorial Plaque form online  or print a copy.  Please contact the Temple office at (260) 744-4245 with any questions.
Where Are The Bronze Plaques?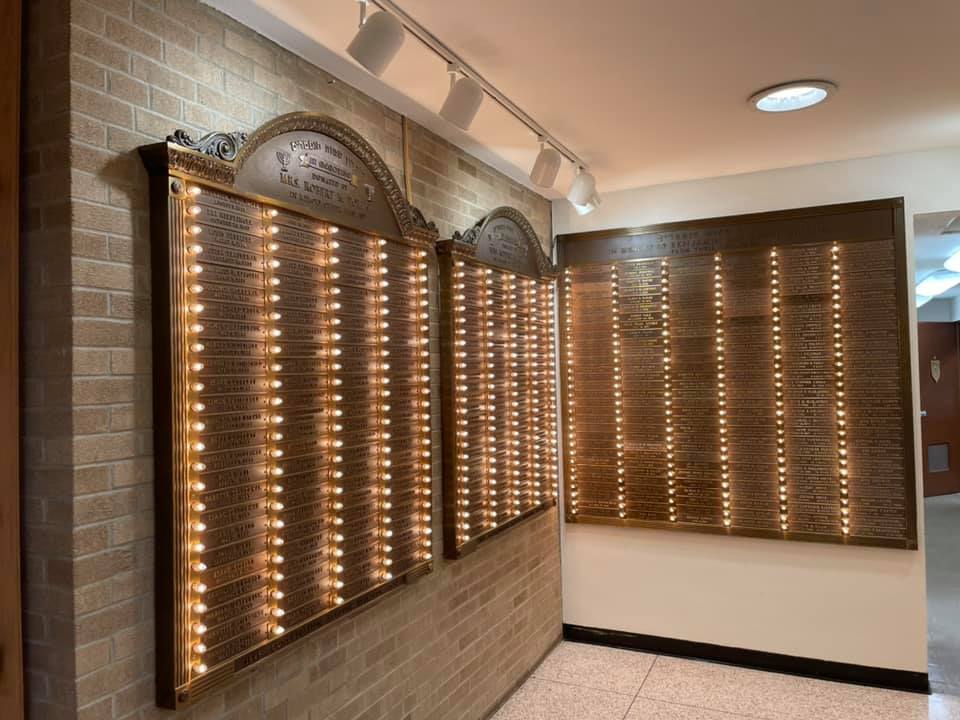 Visitors to the Temple over the years may remember the distinguished bronze plaques near the Sanctuary with nameplates remembering loved ones. A light next to each name was lit on the anniversary of the individual's death and on Yom Kippur.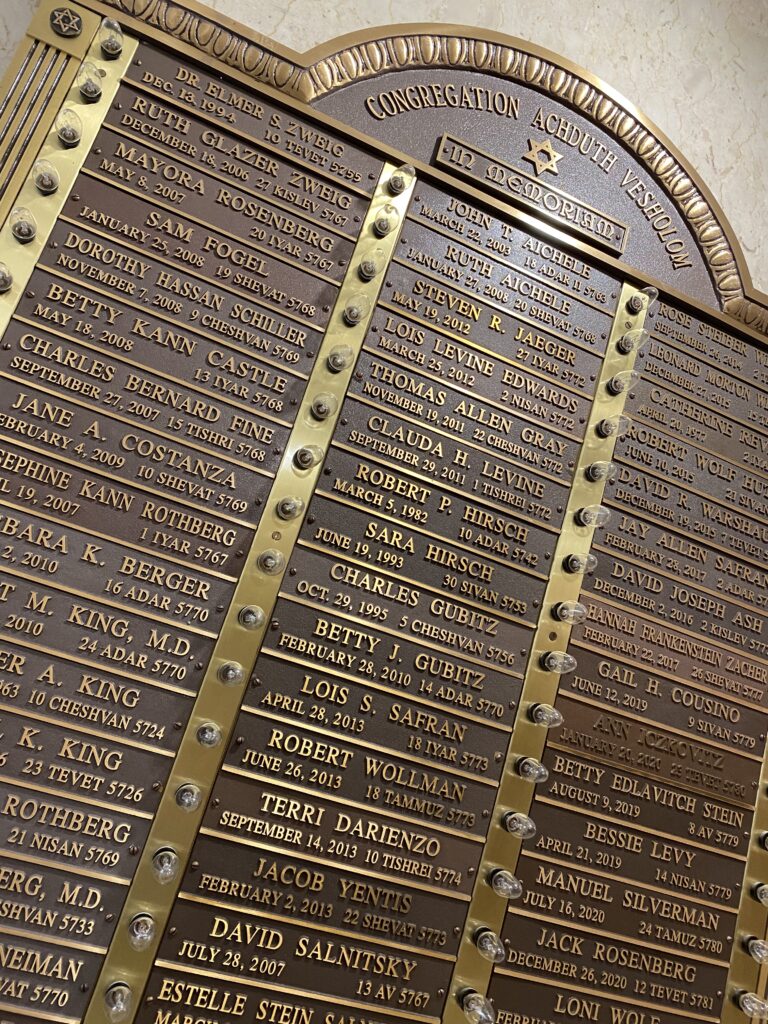 In July 2019, Congregation B'nai Jacob closed and its members became part of Congregation Achduth Vesholom. The long history of both congregations resulted in nearly 1,000 bronze nameplates on 10 larger boards. With limited wall space, the Temple's Board of Directors decided that a digital yahrzeit display would allow us to remember our loved ones and add new ways to honor their memories.  
The leadership also decided that the existing bronze plaques will be incorporated into a sculpture in the courtyard of the Madge Rothschild Resource Center. The Arts and Beautification Committee is overseeing the project, which began in late 2021.
The sculpture is being created by artist George Morrison to enhance the courtyard and create a beautiful space that the artist describes as "a place of contemplation and a testimony to the unity of two congregations whose separate histories have become one."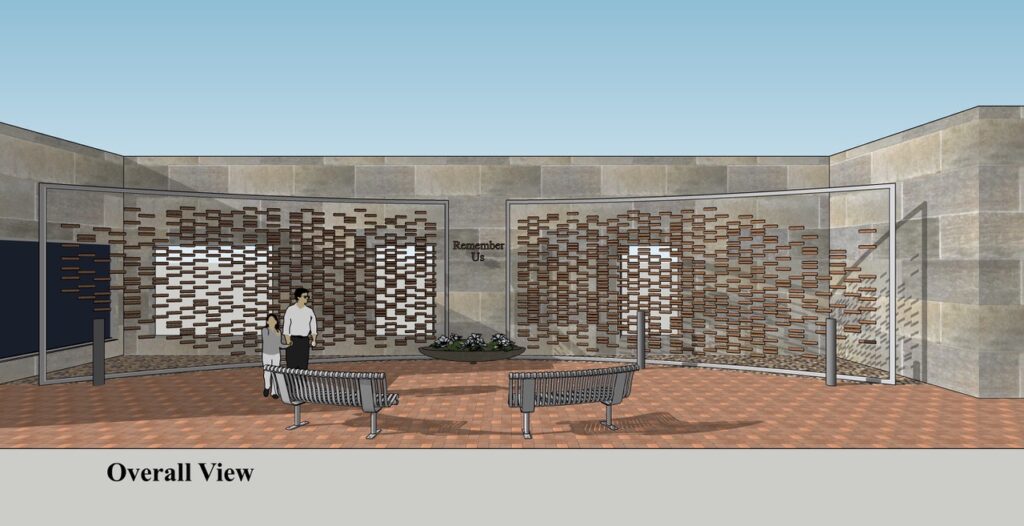 The art piece will be approximately 24 feet long and 12 feet high. Morrison says that names of loved ones will be "seen in cloud-like arrays of bronze plaques that appear to float along the curvature of the courtyard pathway." The piece will be visible from the resource center and rooms that offer views of the courtyard.