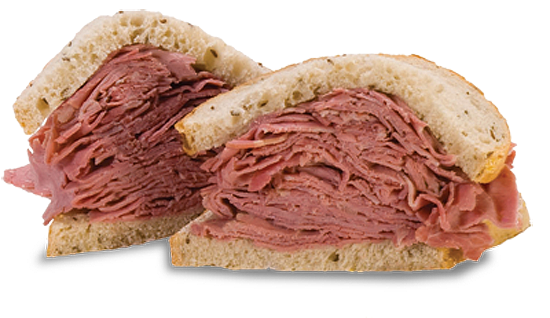 Our excitement is sky-high for the return of Corned Beef on Rye!
Mark your calendar to join us for our 19th Deli Day on Thursday, November 4, 2021! 
The Temple's biggest fundraiser is the annual Corned Beef on Rye – Sure to Satisfy fundraiser, which since 2002 has been held in October or November (except in 2020, due to the pandemic).
Each year of the sale, we've sold more than 1,100 sandwiches and attracted more than 100 volunteers for this socially and financially important event. Thank you to the generous sponsors who underwrite the cost of supplies.
Meals include a heaping 1/3-pound of corned beef on rye, crunchy dill pickle, creamy cole slaw, rich brownie, and a drink. Also available: Whole Hebrew National kosher salamis.
We look forward to seeing you this fall! Please check back for more information.
Thank you to our Corned Beef Crew: Co-Chairs Larry Adelman and Micah Soltz, Carol Adelman, Fran Adler, Rabbi Meir Bargeron, Jamie Fritz, Scott Goldberg, Shai Hadashi, Sam Krouse, Amy Krouse, Marie McFadden, Lee Pomerantz, Denny Reynolds, Nancy Salon, Samara Sheray, Jon Tam, Ellen Tom, Steve Zacher, Judy Zacher, and Beth Zweig
We've Got You Covered!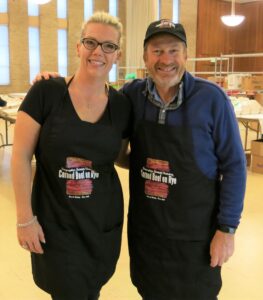 Look sharp and celebrate our unique fundraiser by wearing a custom apron and cap with our corned beef sandwich logo!
Purchase yours for $18 per item to support the congregation and share in the magic of the Temple's annual Deli Day! They also make great gifts! Wear them year-round!