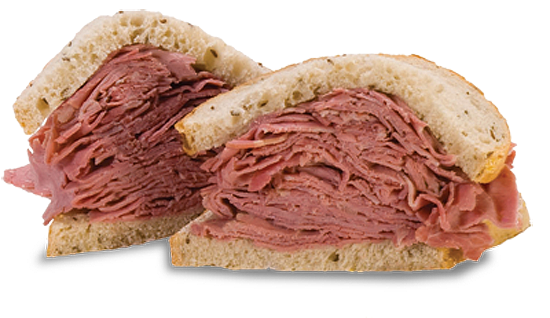 Thank You For Your Support of our 19th Corned Beef Fundraiser on November 4, 2021!
We are grateful to everyone who purchased meals, our 58 sponsors who helped underwrite our costs, and the 100+ volunteers who helped with all aspects of the sale.
We sold a record-breaking 1,800 delicious corned beef meals and an additional 80 lbs. of bulk corned beef to raise funds for Temple programs!
We look forward to our 20th Corned Beef on Rye – Sure to Satisfy Fundraiser in 2022! 
Salami Update – As many of you know, we were unable to get whole Hebrew National kosher salamis (12-oz. size) for Deli Day 2021 as planned due to supply chain issues.  Well…..
 Salamis Have Arrived!
Order Below While Supplies Last 
The Hebrew National whole kosher salamis have arrived! Supply chain delays meant we didn't have them for our Corned Beef Fundraiser in November, but we remained hopeful that they'd arrive and they did! Order yours while they last.
The 12-ounce chubs are $12 each. Please order below or contact the Temple office at (260) 744-4245 to reserve yours today. They are great for holiday parties. Proceeds support Temple programs.
Thank you to our Corned Beef Committee:
Co-Chairs: Larry Adelman and Micah Soltz
Carol Adelman, Fran Adler, Rabbi Meir Bargeron, Jamie Fritz, Scott Goldberg, Shai Hadashi, Sam Krouse, Amy Krouse, Marie McFadden, Lee Pomerantz, Denny Reynolds, Nancy Salon, Samara Sheray, Jon Tam, Ellen Tom, Steve Zacher, Judy Zacher, and Beth Zweig
We've Got You Covered!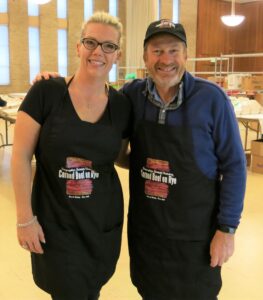 Look sharp and celebrate our unique fundraiser by wearing a custom apron and cap with our corned beef sandwich logo!
Purchase yours for $18 per item to support the congregation and share in the magic of the Temple's annual Deli Day! They also make great gifts! Wear them year-round!