In 2010, Temple members Andy and Janet Katz found themselves on the verge of becoming empty-nesters. They considered how to refocus their energy and priorities now that their children, Jamie and Becky, would no longer be living at home. Andy and Janet felt an obligation to try to make their lives more sustainable in keeping with their longstanding commitment to the environment and the Jewish commandments of Tikkun Olam.
At a time in life when others may have chosen to downsize and to minimize yard work to make their lives simpler, Andy and Janet decided to build a "farm." After four years of researching, designing, planning and saving, they broke ground on their suburban homestead, Green Oak Farm, this past summer in southwest Fort Wayne.
The house was designed using sustainable architecture concepts and the LEED certification guidelines from the U.S. Green Building Council.  The house plans include a very "tight" building envelope built from ICFs (Insulated Concrete Forms), lots of insulation, low energy use appliances, high efficiency heating and cooling, ultra low energy LED lighting and wiring, home control and monitoring, and low flow plumbing fixtures.  A large photovoltaic solar array will help supplement their electric power. The five-acre property will largely be planted with tall grass prairie and will include an orchard and large vegetable garden beds each irrigated with rainwater from the roof collected in underground cisterns.
Utilizing the LEED (Leadership in Energy and Environmental Design) standards enables Andy and Janet to ensure that the products and processes they are using to construct their home can be independently verified as truly "green."  This new home will not only enable them to live with a smaller carbon footprint, but they will be able to grow much of their own food.  In addition to fruits and vegetables, they plan to have beehives and perhaps a few chickens.
Sustainability has been defined as meeting the needs of the present without compromising the ability of future generations to meet their own needs.  To Andy and Janet, this means they need to assure that they are limiting their use of natural resources and using recycled, reclaimed, rapidly renewable and locally-sourced materials wherever possible.  Finally they need to assure that the house is built to last a long time, not only as a place for the Katzes to retire, but also as a sustainable homestead for generations to come.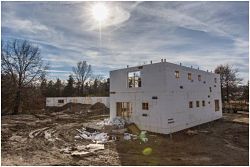 Though Green Oak Farm will be primarily their home, Andy and Janet are committed to making the house and property a community resource for education and advocacy for improved sustainability in Northeast Indiana.The construction of the home is now well underway.  Andy and Janet anticipate that the roof will be on by Thanksgiving and the windows will be in place by Hanukkah.  They hope to be able to move into the home late next summer and are looking forward to building a Sukkah in the backyard next fall.
Those interested in following the joys and challenges of this home construction project can look for Green Oak Farm on Facebook or at GreenOakFarm.com.