Everyone had a front-row seat this year for the Temple's High Holy Days services. Yet creating a sacred space through a screen involved a major behind-the-scenes effort.
Producing meaningful holiday services in normal times requires choreography and planning. But designing a virtual worship experience during a pandemic involves even more finesse and fortitude.
Rabbi Meir Bargeron describes the whole experience as a little surreal, especially when looking out at more than 200 empty seats in the Sanctuary on Erev Rosh Hashanah except the one occupied by his husband, Jon Tam, who also watched on an iPad.
"The energy in the room is definitely different," said Rabbi Meir, who joined Achduth Vesholom as spiritual leader in July and is serving his first pulpit since ordination in May. "Our challenge was to bridge the gap between spirituality and production."
Also in the room where it happened were a producer, two cameramen with four cameras, and Temple Executive Director Samara Sheray, who served as technical director (providing guidance about the rhythm of the service and cues for when Hebrew parts ended).
Cantor Yvon F. Shore and Maestro Robert Nance were safely distanced from each other and Rabbi Meir on the bimah – bringing the reality of modern-day worship for Indiana's oldest Jewish congregation on display.
Yet as the congregation and guests embraced the new normal in watching our Reform services on YouTube, the warmth and meaning of the High Holy Days came through, even with a few small hiccups with sound and the introduction of a 15-minute intermission between the morning and Torah services.
"There's nothing intimate about video-production, but, despite the challenges, the result was that we could have High Holy Days services this year for members of our community," said Rabbi Meir. "We haven't done this before and there was some measure of making it up as we go along…but many congregants have told me that they felt the connection and services felt inclusive."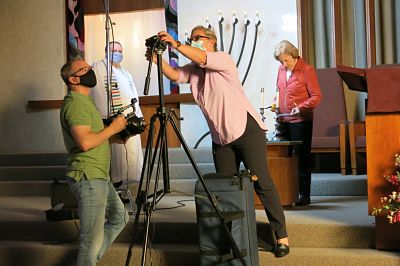 Rabbi Meir said the production team – Cinematographer Ty Black from Bokeh Film & Video and Producer Joe Collins – and Cantor Shore and Bob Nance provided guidance in developing the plan.
In addition to the Reform services broadcast on YouTube from the Sanctuary, the traditional services on Rosh Hashanah and Yom Kippur were livestreamed via Zoom led by Ron & Pam Friedman in the Goldstine-B'nai Jacob Chapel and guest shaliach tzibor Michael Small in Chicago. Temple members Lee Pomerantz and Jay Zemmol assisted with the Zoom broadcast.
Planning for online services began in July soon after the Temple Board made the decision that the start of the New Year 5781 would be virtual. Rabbi Meir, Samara, and Ritual Committee Chair Denny Reynolds began looking at options.
After doing much research and interviewing four production companies, Samara said the decision was made to utilize YouTube for Reform services. Given the COVID-19 situation, she said, we needed the flexibility of pre-recording some parts of the service and the ability to reach a large number of people. Copyright rules and licensing agreements came into play.
Livestreaming of holiday services allowed for out-of-town congregants and guests to join us. These included members of Congregation Olympic B'nai Shalom in Port Angeles, WA, where Rabbi Meir previously served as student rabbi for the holidays.
Zoom worked better for traditional services because the service leaders were in different cities. Pam said planning the virtual service was more work than in-person services. They mapped out the service page by page, eliminating some readings and paring down what is typically four to five hours to less than three.
"We anticipated that sitting straight through looking at a computer screen was taxing and that is why we broke up into sections," Pam said. "We did not include shofar blasts in the building because of COVID and that's how the idea of the outdoor (Shofar) service came to fruition."
During the traditional Torah service, aliyot were read by congregants after unmuting themselves. Pam said nothing was pre-recorded other than Rabbi Meir's D'var Torah for the traditional service on Yom Kippur.
While worshippers were able to see each other on the gallery view, some did not have their cameras on. Other modifications during the season included changing the Torah covers before Selichot and instead of chanting the Book of Jonah on Yom Kippur afternoon, a YouTube video on a related theme was utilized.
To keep members informed on plans, Administrative Assistant Marie McFadden and Communications Chair Beth Zweig worked on creating e-newsletters and other informational pieces for members with and without internet. Denny reached out to those who are not online to check on suitable options. Rabbi Meir created DVDs and CDs that went to those without computers so they could have a holiday experience even if they were unable to connect to services.
At the same time, other traditions were being reimagined. The Social Action Committee adapted the annual food drive into a drive-up and drop-off effort and a plan was formed for members to borrow machzorim to follow the services at home.
After Rabbi Meir planned the service and Denny determined participant parts, spreadsheets were developed outlining who was reading, page numbers, and production notes on camera angles for pre-recording. Timing was carefully worked out by Rabbi Meir and Cantor Shore with hard choices to try to ensure that no segment of the service extended past 1 hour and 15 minutes.
On September 10, members were scheduled 15 minutes apart throughout the day to record their parts. A sanitizing station outside the front door and a staging area in the Social Hall were established, along with safety protocols for those coming in the building or using prayer books.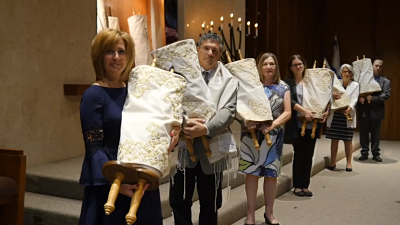 The most intricate part of the production came for Kol Nidre when six congregants each held a Torah in a line on the bimah though they never actually were in the room together. They were recorded at different times and united by an intricate plan and seamless editing.
Spaces were blocked out in advance so that each person would eventually be in height order holding the Torah on the appropriate side for the shot to be successful. Each was recorded from three different angles at 40 seconds per angle and then edited together to look like they were next to each other.
"Everything was carefully planned for the recordings," Samara said. "Lighting was a big deal. Blocking and cues were figured out. Even the candles on the bimah were monitored so their height was consistent throughout. This was a big undertaking."
Rabbi Meir said every congregation was in the same boat this year due to the pandemic.
"We needed to find a way to do it and make it feel as special as we could," he said. "Some wonderful things happened that we didn't plan for. In addition to the quality of the Torah readings (by Bruce Colegrove and Shai Hadashi), we had an 'action shot' over the shoulder, giving the ability to see the yad move across the scroll. That doesn't usually happen. This was very special."
Despite the circumstances, Rabbi Meir said the holidays created an unusual and important moment for us as a congregation and for him in his first season with us.
"It was special because we were praying in the Sanctuary," he said. "Even though we weren't together physically, we were connected as a community."