It's important to Rena Black that the history of the Holocaust and its lessons are not forgotten. As the new chair of the Temple's Holocaust Education Committee, Rena has a personal connection that informs her involvement.
Her father Curt Stein left Germany in the early 1930s to live in the United States. After the Nazis started requiring all Jews to wear yellow Stars of David and closed their schools to Jewish students, other family members fled their homes in Worms. Rena's Uncle Henry and her grandparents Julius and Irmgard Stein came directly to the U.S., while her aunt Gerda Schmitz went to South America. Many of their extended family members weren't fortunate enough to escape.
"As people in the surviving generation are passing away, it's incumbent on the rest of us to keep the story alive, make sure history is not lost, and put it in the context of new uprisings, especially in Europe," she said.
Rena, a long-time congregant and local Realtor, was appointed chair in January. She succeeds her mother, Betty Stein, who had led the Holocaust Education Committee since its inception some 30 years ago with assistance from the late Jo Rothberg.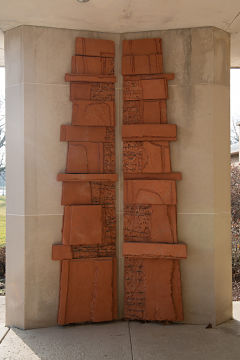 Much of the funding for current programs comes from the Temple's Max & Gerda Schmitz Holocaust Education Fund that was established in 2007 by their daughters – Rena's cousins — to honor their parents. (Not only were the late Max & Gerda active members of Achduth Vesholom, but both of Rena's parents and her brother John Stein have served the congregation as president.)
The five-member Holocaust Education Committee currently is developing a large symposium for May 2016 that will bring together 25 soon-to-be-teachers — recent graduates of Indiana universities and colleges — who are beginning teaching careers in social studies and history. During a five-day visit to Fort Wayne, they will learn more about Holocaust history and ways to best share that information in middle and high school classrooms. In addition to speakers from the U.S. Holocaust Memorial Museum and IPFW's Institute for Holocaust and Genocide Studies, Rena said they hope to have a survivor speak.
With the long-term planning needed for the symposium, 98-year-old Betty said she felt it was time to pass the torch as chair of the committee. She said that her daughter's sense of integrity and family background will help Rena take on the task of sharing the lessons of the Holocaust.
"We must get people to remember, but also to live by it," Betty said. "When you see injustice, don't just look at it. It's part of Judaism, an imperative. You've got to fight against stuff like that and do something about it. The Holocaust committee's job is to remind people so something like this is never repeated, to learn that you have speak up about injustice."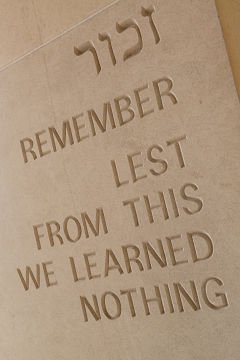 In addition to her involvement with Holocaust education, Rena is chief interviewer for our congregation's oral history project and recently recorded Artist Nancy McCroskey, who created the Holocaust Memorial in 1986 in front of the Temple.
The committee has materials available for use by local schools that include a classroom set of Elie Wiesel's "Night" and "I Never Saw Another Butterfly," as well as a DVD of local Holocaust survivors telling their stories (available online at http://www.ipfw.edu/ihgs/). Holocaust Committee members include Betty Stein, Fran Adler, Jaki Schreier, and Steve Carr.
Rena said the committee is in the process of forming a Speakers Bureau to field requests from area schools, churches, and business organizations. She said training is planned so that speakers can give similar and professional presentations.