Shabbat Shirah with Cantor Yvon Shore
14 Jan @ 6:00 pm - 7:00 pm
Share a special musical evening with us on Friday, January 14 at 6 p.m. when we welcome Cantor Yvon F. Shore, Director of Liturgical Arts and Music at Hebrew Union College-Jewish Institute of Religion in Cincinnati, to give a sermon in song in celebration of Shabbat Shirah (Sabbath of Singing).
The service is named for a musical moment in Jewish biblical history when Moses and Miriam lead the Israelites across the Sea of Reeds and out of Egypt. Part of the reading is known as Shirat HaYam (song of the sea).
Please join us in person or via livestream, led by Rabbi Meir. Maestro Robert Nance will accompany Cantor Shore on the piano.
Kindly note that only vaccinated individuals may enter the Temple building. Proof of vaccination (a vaccination card or photo of the card) is required. Masks also must be worn in the building. Please review our COVID Safety Protocols 
The link for worship services on Zoom is sent in the weekly email to our Temple family. We warmly welcome guests. Please contact the Temple office for online access information at (260) 744-4245 or office@templecav.org. Services also are available on YouTube.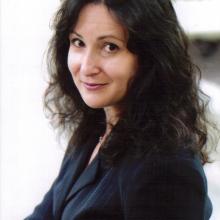 Cantor Shore previously has shared her beautiful voice at our High Holy Days services and for our Violins of Hope Shabbat service focusing on the music of European Reform synagogues in the years leading up to the Holocaust.
She earned a Masters in Sacred Music and Ordination through HUC-JIR, New York. She received a bachelor's degree in Music Education from West Chester University, College of Visual and Performing Arts with a double major in flute and conducting.
Cantor Shore took additional studies in ethnomusicology at The Hebrew University of Jerusalem and The Jewish Theological Seminary in NYC with Bathja Bayer, Israel Adler, Amnon Shiloah, Edwin Seroussi, and Johoash Hirshberg. She continued graduate studies with an emphasis in musicology at the University of Cincinnati, College Conservatory of Music and liturgy at HUC-JIR Cincinnati.