Exploring The Cultural Journey of Mahjong
2:00 pm - 3:00 pm
Please join us Sunday, November 6 at 2 p.m. for Mahjong! How a Chinese Game Shaped Modern American Culture. Author Annelise Heinz will share with us the American history of the Chinese parlor game mahjong.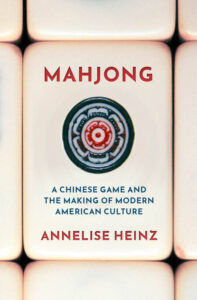 She charts a complex cultural journey as the game's history connects American expatriates in Shanghai, Jazz Age white Americans, urban Chinese Americans in the 1930s, Jewish American suburban mothers, and Air Force officers' wives in the postwar era. Her talk follows the history of one game to think about how, in their daily lives, individuals create and experience cultural change.
Ms. Heinz is the author of Mahjong: A Chinese Game and the Making of Modern American Culture. Currently, a historian at the University of Oregon, her work has been featured by National Public Radio, The Wall Street Journal, TIME, Tablet, and Kveller among others. She has lived and played mahjong in the United States and Southwestern China.

Dessert reception and meet and greet with the author will follow.