Jewish Community Campaign To Help Newest Neighbors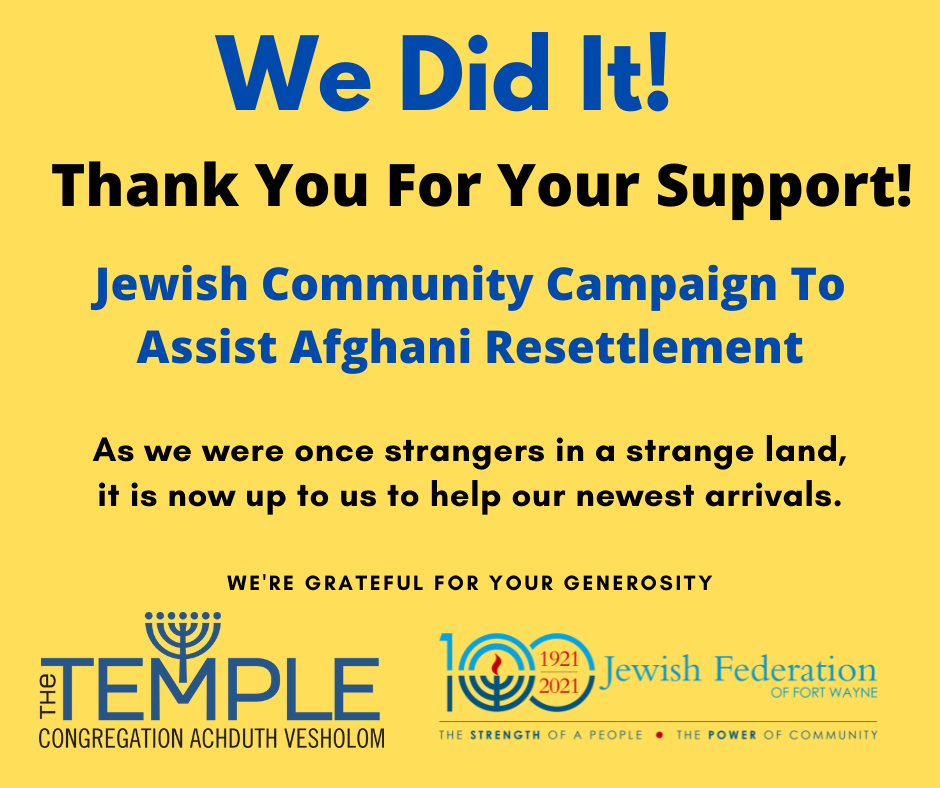 "You Shall not oppress a stranger, for you know the feelings of the stranger, having yourselves been strangers in the land of Egypt." (Exodus 23:9) The Five Books of Moses mentions the concern for the stranger 36 times, and the Torah gives us a blueprint on how to treat the stranger. We are prohibited from oppressing the stranger, and we must have the same rules for strangers and citizens alike.
When the Jewish community announced in December a month-long fundraiser for Catholic Charities to assist with resettling Fort Wayne's Afghan refugees, we set a lofty goal of $5,000 from Congregation Achduth Vesholom, with the Jewish Federation of Fort Wayne offering to match that amount.
The generosity in the first few days was so exceptional that the Temple Board of Directors raised the goal to $10,000. And as the final days of the campaign and year-end 2021 approached, the amount kept growing. And growing. The exceptional generosity of our congregants and the greater Jewish community raised $21,868 to assist the newest residents of Fort Wayne.
"Your generosity to assist our new neighbors is so limitless that we can't thank our donors enough," Bobbie Golani and Jaki Schreier, co-chairs of the campaign, wrote in a letter to those who contributed. "…We are taking this opportunity to say thank you a hundred times over…. We can't begin to imagine how much this will help the "strangers in a strange land" find their new homes and new lives in Fort Wayne."
We more than tripled the initial congregational goal of $5,000, collecting $16,868 from our Temple family. That included donations from the ROMEOs and attendees at our Hanukkah dinner, along with a gift from Rabbi Meir Bargeron's discretionary fund. The checks from the Temple and the Federation will be presented in person to Catholic Charities.
Thank you to the committee and all who supported our effort to change lives for the better.
Please check back for additional ways you can help our newest neighbors.